About High Forest Ranch
High Forest Ranch Community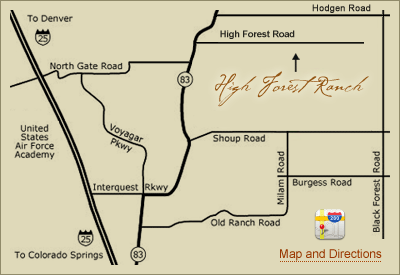 At High Forest Ranch the residents are guests of nature where you can easily be at home in the country while working in the city. Located only 15 minutes from downtown Colorado Springs and 45 minutes out of Denver—you really can have it all.
At High Forest Ranch, we see the value in space and beauty and privacy, while offering homesites ranging from 2.5 to 39 acres.We pride ourselves on a close neighborhood community. We utilize the community lodge for various community events from our annual wine tasting party and monthly happy hours to our holiday party and summer BBQ.
Adopting the theme of a "national park setting," the lodge at High Forest Ranch blends effortlessly into nature and is for all residents to use for private parties.
The deck offers breathtaking views of Pikes Peak and features an outdoor gas fire pit. A playground is situated in the back along with a sports court for an invigorating round of two on two, and a short distance away are the stocked fishing ponds perfect for catch and release or an after dinner stroll.
School District #38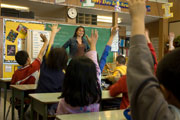 High Forest Ranch is in Lewis Palmer School District #38, widely regarded as one of best school districts in the area. Lewis Palmer School District is consistently one of the top performing School Districts in the state and is committed to educating students and preparing them for future success, in and out of the classroom.
Lewis-Palmer School District 38 has grown steadily throughout the 1990s and currently enrolls approximately 5,800 students. It is predicted that growth will slow somewhat and that the district will not grow much beyond 8,000 students when current and future subdivisions are built out.
Healthcare Facilities
A patient-centered environment is central to the design of this facility, with a two-story atrium lobby and views of Pikes Peak. Art, music and a garden will provide an ambience of serenity for patients and visitors.
Patient care floors, designed in oval-shaped room clusters, allows rooms to be situated just steps away from nursing stations. Plans for future growth have not been determined; however, the site can accommodate a 500-bed hospital.
St. Francis Medical Center is the newest facility in the Penrose-St. Francis family. The $207 million, 168-bed facility is the only full-service hospital in Northern Colorado Springs and features a modern birth center and Level III neonatal intensive care unit, pediatric unit, 24-hour Emergency Department, Level IV Trauma Center, Imaging Services, Surgical Services, and a Critical Care Unit.
It also serves as home base for the Flight For Life Colorado air ambulance helicopter service.
Colorado Springs and Surrounding Areas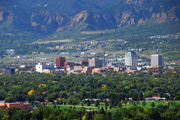 Colorado Springs, a city with a sophisticated business community and strong military presence, remains a place of inspiration - whether you seek peace and relaxation, or adventure. You'll find clean air and a small-town feel, with all the amenities of a modern city. Here, quality of life comes naturally.
Colorado Springs, originally founded as a resort community in 1871, has something to offer just about everyone. With an average of 300 days of sunshine per year and a temperate climate, you'll find year-round opportunities for recreation and enjoying the area's many natural and other attractions, such as:
In the warmer months, enjoy forested hikes, bike rides or nature watching. In the winter, skiing is just a short, scenic drive away. The area, home to 500,000 residents, also boasts world-class dining, as well as a vibrant arts and cultural scene. Historic districts such as Old Colorado City and Manitou Springs offer art galleries, antiques and unique shopping. Or, head to the city's downtown to visit the Pikes Peak Performing Arts Center and historic Pioneers Museum, or catch a performance of the symphony, ballet or a local theater group. If you like sports, there's plenty of action with the Air Force Academy Falcon football, Sky Sox minor league baseball.
If you're looking for some just 45 minutes north, Denver has all the excitement and events of a major metropolitan city, including the Denver Broncos, Denver Nuggets, Colorado Rockies and Colorado Avalanche games, Denver Performing Arts Center as well as many other museums, events, shops and restaurants. When you're headed further, High Forest Ranch is uniquely situated to offer quick access to both Colorado Springs Airport as well as Denver's International Airport.